Weddings
Your wedding day is one of those days that will be a most cherished memory. Arrive at your ceremony in a beautiful white horse drawn carriage and continue the romance of your courtship. The newly weds can enjoy a few moments alone to relax and start enjoying their new life together as they ride the horse drawn carriage to the reception.
Our carriages come with decorations, which can be customized to coordinate with your wedding colors. Our driver and assistant will wear formal attire, unless you have another preference. If you have an evening wedding, our horse drawn carriages will be accommodated with lighting. At Vintage Carriage Company we strive to accommodate all cultural traditions, we offer our Houston Texas horse drawn carriages for Indian & Asian weddings as well as other cultures. Please contact us for more information.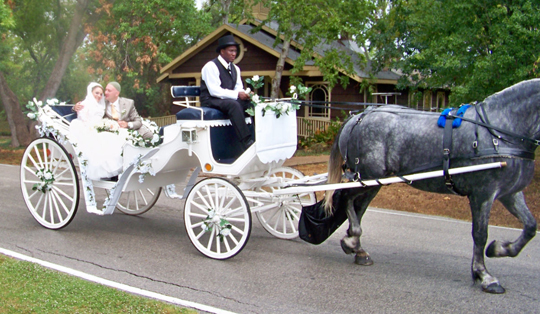 "...I utilized the services of Vintage Carriage Company for my Annual Acres Homes Juneteenth Parade as well as for the Independence Heights Juneteenth Parade. I was very pleased with the horse carriage services provided by Mr. Reed and I have no doubt that I will request the services of Vintage Carriage Company in the future..."
-Sylvester Turner
State Representative, District 139