Reservation Info
We offer historical downtown carriage tours as well as special events like weddings and parties. Our carriages come with decorations, which can be customized to coordinate with your event colors. The driver and assistant come dressed in attire that relates to the event (i.e. formal for weddings, western for wagon rides, etc.), unless you have another preference.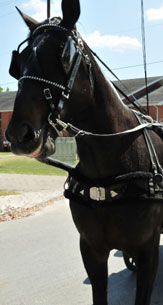 We can accommodate your needs and we operate day or night. All vehicles have lights for evening operation. The carriages have tops that can be put up for that sunny day or intimate evening.
Your safety and the safety of our horses are our utmost concern. Our horses are well trained and experienced in traffic. However, we do not take unnecessary chances. We ask that you do not request your carriage ride on roads with a speed limit over 35 m. p. h. otherwise we will require a police escort. We can help find an alternative route.
Click the book online now button to the right and book a downtown carriage tour with just a few simple clicks! Need a carriage for a special event? We do weddings, events, parties, and more. Click to "request a quote" button to the right or call us at 210-818-2190 and schedule one of our horse drawn carriages for your special event.
"...I utilized the services of Vintage Carriage Company for my Annual Acres Homes Juneteenth Parade as well as for the Independence Heights Juneteenth Parade. I was very pleased with the horse carriage services provided by Mr. Reed and I have no doubt that I will request the services of Vintage Carriage Company in the future..."
-Sylvester Turner
State Representative, District 139